Our House in France
Our house located just outside a village near Cluny and Macon. We don't rent it out publicly – this page is for friends who may want to visit.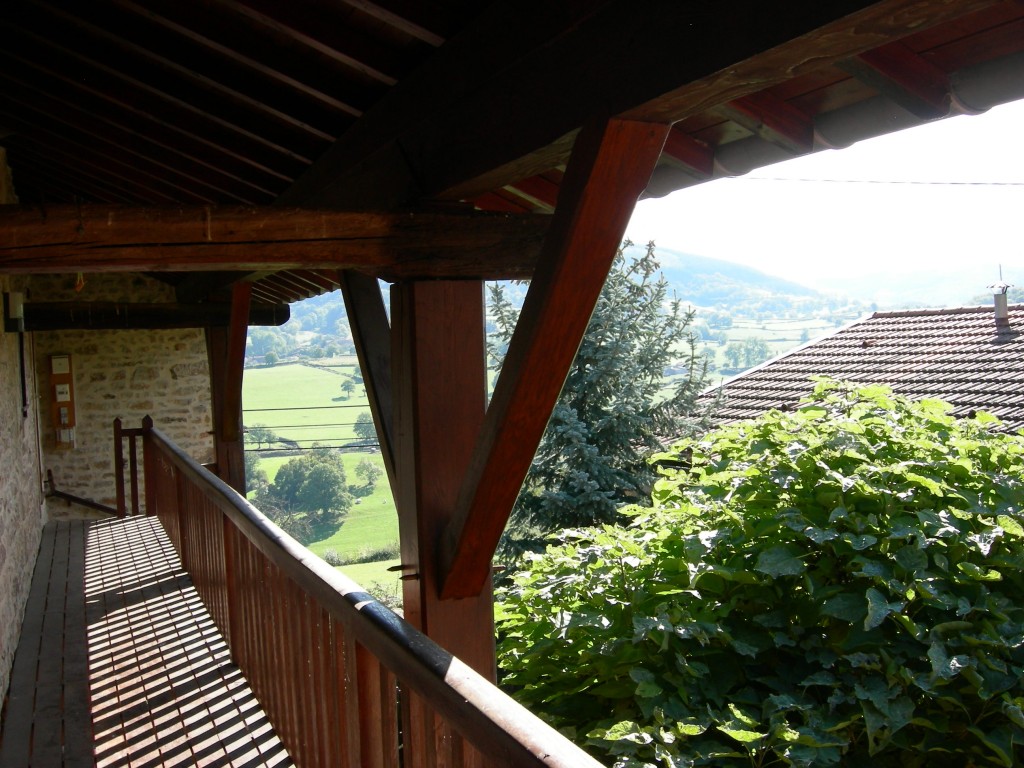 The House
The house, entirely in stone, was built around 250 years ago. In the 1990s it was purchased by a Dutch couple, who undertook renovations of a high quality (a very high quality compared with the typical standard in the region).
It's located about 600 metres (less than half a mile) from the village, along a quiet lane. It's the last house in a small row, and there are no houses opposite, so you have uninterrupted views of open country.
The house is on two levels, plus a substantial cellar. Downstairs is a living room with pot-bellied stove, drawing room, well-equipped kitchen and scullery, WC, and one large bright bedroom with courtyard and garden views.
Upstairs are four further bedrooms, two with double beds, one with a ¾ bed (cosy for two) and one with a single bed. There are also two folding beds. All bedrooms have vanity units with hot and cold water. The largest bedroom opens onto the "Maconnais" balcony which runs the length of the house. There is a second WC and a separate bathroom / laundry.
Outside is a garden with fruit trees, herbs and flowers. On the other side is a courtyard with barbeque, and a garage – there are four bicycles (21 speed mountain bikes with helmets, purchased in 2003) there for your use.
Caretaker
We have a caretaker who lives in an apartment above the garage, and looks after the keys, garden, cleaning, wood supplies etc. He's lived in the region for some 20 years – but doesn't speak English – a great chance to practice your French (or German, he tells us). If you have any problems or queries, he's the person to see.
The Village
The house is a short walk from the village of Tramayes – a very typical French village concentrated on one street, with two small supermarkets, two butchers, greengrocer, newsagent, patisserie / bakery, hardware store, bank (and ATM), tourist bureau, and three bar-restaurants. You can buy pretty much everything you need day-to-day there. Our neighbour is a bee-keeper and you can buy local honey directly from him.
The Region
Tramayes is located in Charolais cattle country, but is only a short drive from the vineyards of Beaujolais and Maconnais and an hour or so drive to the Cote d'Or, home of the legendary red and white wines of Burgundy. Cluny (10 minutes drive) is a famous abbey town and home of the National horse stud, and a popular tourist destination. St Point, a short bicycle ride away (3km, 2 miles) offers a lake, picnicking, fishing, and the Chateau Lamartine. You are close to the gastronomic heart of France and there are fine restaurants at every level nearby (Georges Blanc, one of France's finest, is just over a half-hour's drive away). Cluny and Macon both offer Saturday markets.
Getting There
Tramayes is about 30 km from Macon and about an hour's drive from Lyon – both of which are served by the TGV (fast train) from Paris. Lyon also has an airport with flights from major European cities. Alternatively, fly into Paris, hire a car, and take the Autoroute (A6) south – a pleasant four to five hour drive.